EFFAS Summer School 2016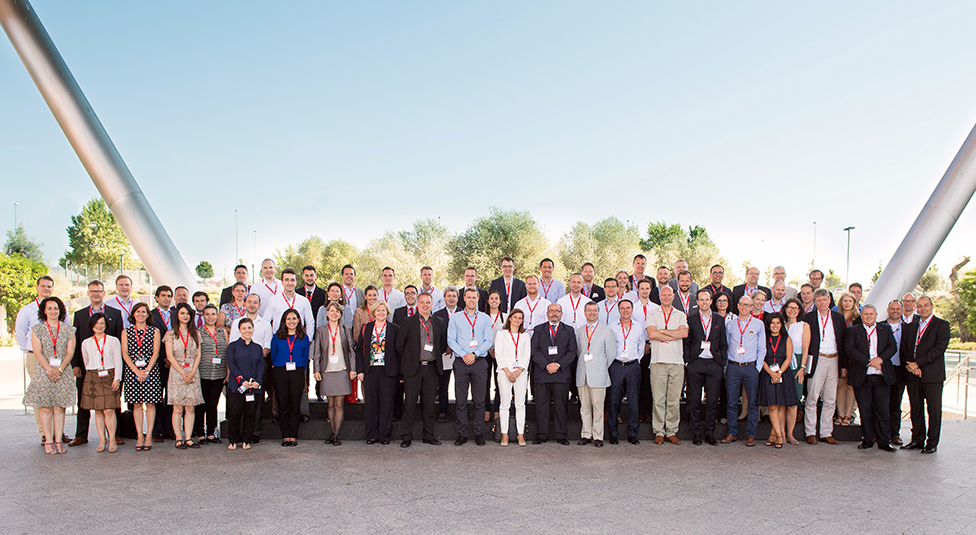 With the support of Banco Santander, EFFAS is organizing since 2008 the EFFAS Summer School in Madrid, in the Santander Financial City.
The 9th edition of the Summer School took place last week on 6-8 July 2016. Plenary sessions and lectures on most actual and relevant topics for our profession in Europe and simultaneous workshops were given by professors and experts from various industry sectors. You will find the full program linked to this page.
In this 9 th edition of the EFFAS Summer School, the Environmental Social Governance aspects ("ESG") and the impact of MiFid II in our profession and in general in financial markets, have been thoroughly analyzed from different perspectives by the top professionals invited to our Summer School. Also Fintech-Big data and its current and midterm influence on financial markets, financial professionals and customers was discussed in full detail. According to our guests, these topics are about to transform deeply not only the structure of financial markets but also the relations between customers and supplier. They will increase both ransparency for the customers and costs linked to the operations in the near future.
Professors and professional from various countries of precedence will discuss the last trends on the following topics:
Future skills and profiles for investment professionals in financial markets
Environmental, Social and Governance
Professional conduct for financial markets
Fintech/Digital
Regulation on Financial markets: MiFid II
The workshops will focus on Equity Valuation and Analysis, Fixed Income Valuation and Analysis, Corporate Finance, Financial Accounting and statement analysis, Portfolio management.
New 2016!
8 hours' Workshop in Environmental, Social and Governance (ESG) for participants previously registered in the program through their national Societies. The participant can also make the exam last day in order to get his ESG Diploma. The participant will also have 1 month access to the Workshop learning material on the EFFAS Platform through the NMS.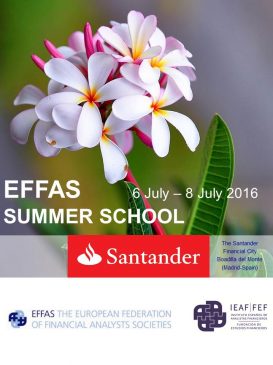 Dr. Guenther Dobrauz-Saldapenna, Partner at PwC Zurich and Leader of its Legal FS Regulatory & Compliance Services practice
Mr. Nicolas Bernier-Abad, European Commission, DG FISMA – Financial Stability, Financial Services and Capital Markets Union
Fintech-Big Data panel. Dr. Tibor Dessewffy, Mr. Ralf Frank, Dr. Andreas Hoepner, Mr. Nicolas Floquet and Dr. Lopez Zaballos (EFFAS Chairman)
Mr. Hans Buysse. Partner SynCap. Board Member EFFAS, Belgium.
Regulation of Financial Markets: MiFid II. Mr. Fracisco Uria, Ms. Pescador, Dr. Dobrauz-Saldapenna, Mr. Rodrigo Buenaventura and Dr. Lopez Zaballos (EFFAS Chairman)
Mr. Rodrigo Buenaventura. Head of Markets Division. European Securities and Markets Authority (ESMA)
Mr. Alfredo Fraile (Banco Santander) and Dr. Jesús López Zaballos, EFFAS Chairman
Mr. Francisco Uría, Partner responsible of the legal areas of Financial services, KPMG Abogados
Ms. María Dolores Pescador Castrillo. Director Regulatory Projects Control and Coordination. Banco Santander
Prof. Dr. Leef H. Dierks, Professorship for Finance and International Capital Markets. Lübeck University of Applied Sciences. Germany.
ESG: EU Directive – Disclosure of non-financial information and ESG Ratings. Mr. Nicolas Bernier-Abad, Ms. Claudia Volk, Mr. Frank Klein, Ms. Susana Peñarrubia and Mr. Ramon Pueyo.