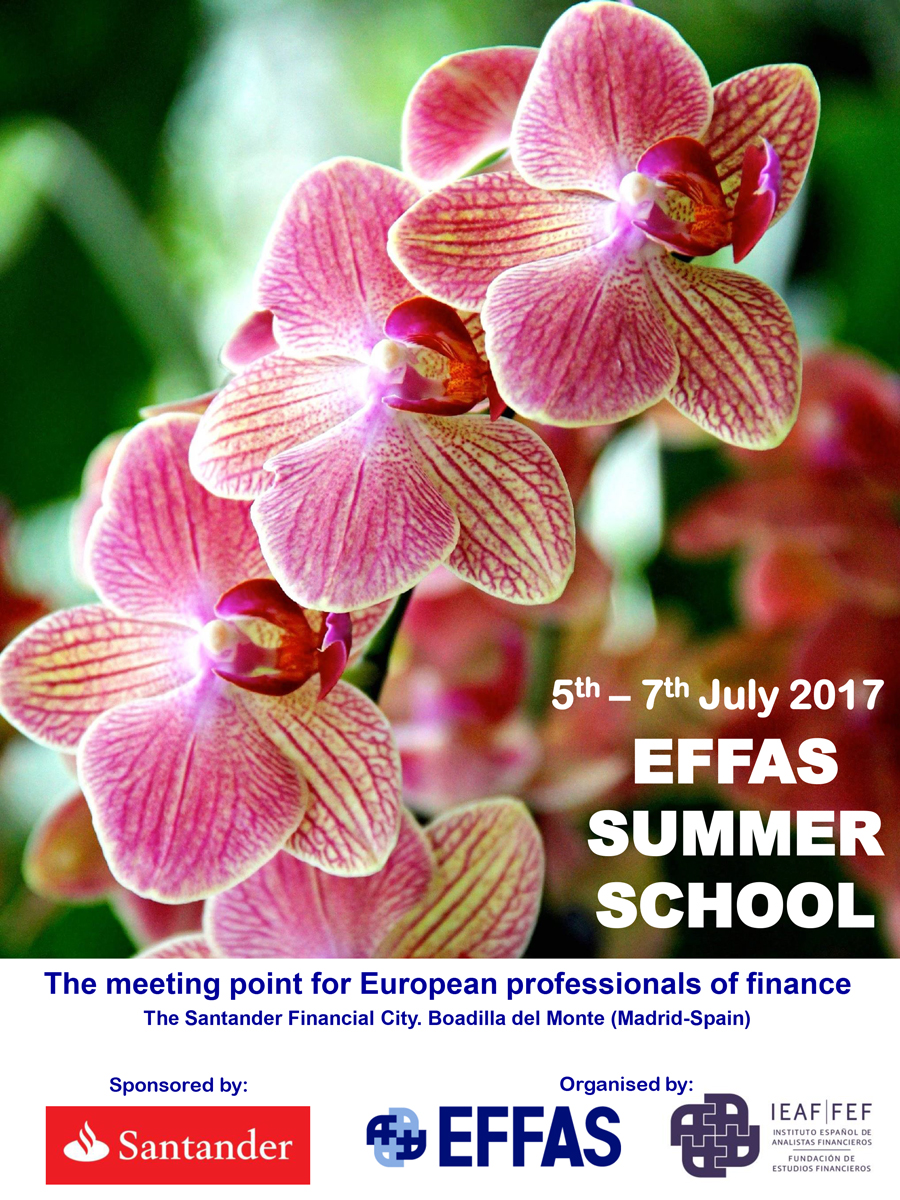 EFFAS Summer School 2017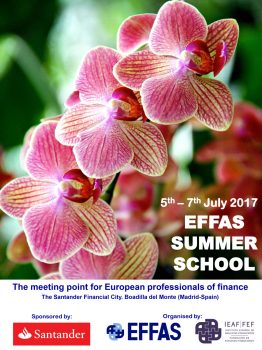 Over 150 professionals from 18 different nationalities gathered together in the Santander Financial City from 5th to 7th July 2017, to attend the conferences of the 10th Edition of the EFFAS Summer School.
You can read more about the conferences here
EFFAS was honoured with the presence of:
Mr. Johan Van Overtveldt, Minister of Finance of the Belgian Federal Government, Belgium
Mr. Jean Paul Gauzes, President of the Board at the European Financial Reporting Advisory Group (EFRAG)
Mr. José Manuel Campa, Global Head of Regulatory Affairs at Banco Santander, Spain
Mr. Oliveira Gomes, Board Member of the International Accounting Standards Board (IASB), UK
Mr. Andrew Jones from the International Integrated Reporting Group (IIRC), United Kingdom
Mr. Antonio Torío, Head of founding, Banco Santander, Spain.
Mr. Jorge Yzaguirre Scharfhausen, Chairman, Instituto Español de Analistas Financieros (IEAF), Spain
Prof. Dr. Leef H. Dierks, Professor for Finance and International Capital Markets. Lübeck University of Applied Sciences, Germany
Mr. Graham Bishop, Consultant on EU Integration: Political, Financial, Economic and Budgetary, United Kingdom
Dr. Philipp Koch. Partner Asset Management at McKinsey & Co., Germany
Mr. Patrice Aguesse, Head of Markets Regulation Division, L'Autorité des marchés financiers (AMF), France
Ms. Gloria Hernández Aler, Of Counsel, finReg360, Spain
Mr. Javier Ruiz del Pozo, Director Secondary Markets, Comisión Nacional del Mercado de Valores (CNMV), Spain
Mr. Roberto Sanchez Garcia, Global Head of Product Governance and Consumer Protection, Banco Santander, Spain
Mr. Abraham Carpintero, Partner, Legal Financial Services, KPMG Abogados, Spain
Dr. Andreas Hoepner, Associate Professor of Finance at ICMA Henley Business School, Reading. United Kingdom.
Prof. Dr. Markus Arnold, University Bern, Professor of Behavioural and Management Accounting, Switzerland.
Mr. Andreas Feiner, Arabesque, Head of Value Based research. Germany
Mr. Robert Klijn, founding partner at Fair Impact and Chairman of the Committee for Responsible Investment of the Dutch Association of Investment Professionals, VBA. The Netherlands.
Mr. Johan Broström, Senior Investment Adviser, Johan Broström AB. Member of the ESG Committee of the Swedish Association of Financial Analysts (SFF), Sweden
Mr. Renato Salsa, Chief Executive Officer of Grace Capital Partners SA, Switzerland
Mr. Bertrand Sluys, Founder and partner of I4G Asset Management, Belgium
Mr. Frank Klein. Managing Director, Deutsche Asset Management, DVFA and EFFAS Board Member and IIRC Member, Germany
Mr. Ralf Frank, Secretary General & Managing Director, DVFA. Germany
Mr. Javier de Frutos, Chairman of the EFFAS Financial Accounting Commission
Mr. Hans Buysse, Partner at Clairfield Benelux. Board Member & Treasurer of EFFAS, Vice Chairman of the Belgian Association of Financial Analysts (ABAF), Belgium, Board Member of EFRAG.
Mr. Philippe Giraudonv, Advisory in Corporate Finance & Corporate Development, PHG Finance, France
Our gratitude to all of them, sponsors, lecturers & speakers as well as to the participants. Their very positive feedback and extraordinary quality perception of the EFFAS Summer School 2017 is an endorsement for EFFAS to continue with this annual magnum event. We are looking forward already for the 11th Edition of the EFFAS Summer School next year!
Experiencing the Summer School is a unique opportunity to build up simultaneously knowledge and professional network in a relaxed and casual atmosphere with a first world class pool of lecturers and speakers covering actual and relevant topics for the finance professional in the unique facilities from the headquarters of Banco Santander in Boadilla del Monte (Madrid).