Frankfurt, 24 February 2021
A total of 1,268 asset managers from around the world already have the CESGA title, an analyst certificate in ESG (Environmental, Social and Governance), from the European Federation of Financial Analysts Associations (EFFAS). This pioneering title in the international financial field consolidates its world leadership after the certification of 396 new professionals in the latest of EFFAS's online exams held in November. The next exam is on 12th March 2021 and there are more than 400 candidates registered.
The CESGA is especially aimed at financial analysts and asset managers who wish to integrate ESG data into their capital investment processes; but also, in general, to all investment professionals, increasingly committed to sustainability issues. In 2020, 28% of our holders are in portfolio management, 22% are asset managers, 10% are financial advisors, and 8% are portfolio analysts. Other specialists also demand this course to develop a better understanding of the needs of the capital markets in terms of ESG information, such as those responsible for corporate sustainability, investor relations, auditors, and consultants. In respect of the age profile of holders, 48% are senior professionals over 40.
Since 2019, the number of holders has been growing rapidly in Asia and America. The distribution of CESGA holders around the world at the end of 2020 showed that 85% were based in Europe, 8% in Asia, 4% in North America, 2% in in South America, and less than 1% in Africa and Oceania, as illustrated in the pie chart.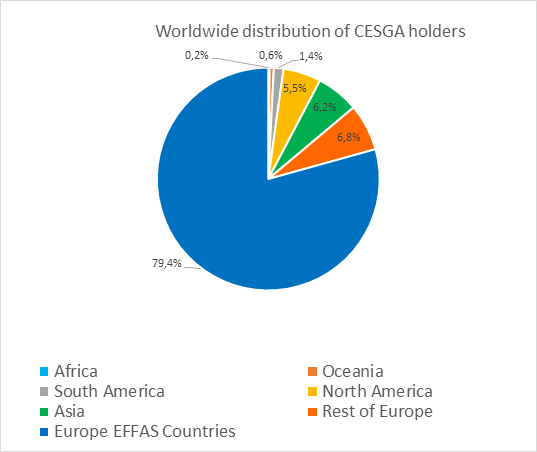 The CESGA Programme
In 2014 EFFAS launched the CESGA (Certified ESG Analyst) title to accredit professionals in advising on socially responsible investment, which not only considers profitability, but also social and environmental impact and good corporate governance practices.
The programme is available completely online, both the training for its preparation and the exam. In this way, it is accessible to candidates from all over the world who are interested in improving their professional opportunities with the ESG Analyst Certification (CESGA). For more information and to register visit effas-academy.
Last year EFFAS introduced the online CESGA programme in Hong Kong, Colombia, Peru, and Mexico bringing this internationally recognized certification to the Latin American and Asian markets and building on its presence in the main financial markets in Europe and in the United States.
National and international companies certifying their ESG professionals with the CESGA title include Andbank, Bankia, Bancolombia, BBVA Asset Management, BNP Paribas Asset Management, Caixabank Asset Management, CDC Valeurs Moyennes, Danska Bank, Deutsche Bank AG, DWS Investment GMBH, La Banque Postale Asset Management, Mutua dels Enginyers, Mapfre Inversión SV, Mapfre AM, Metzler Asset Management, Nordea Investment Funds SA, Prima AFP, Santander Asset Management and Tressis Gestión.
EFFAS is a non-profit organization founded in 1965 that brings together 15 European national associations with more than 20,000 members, all professionals in investment, asset management and financial analysis.