In 1962, the founding members of EFFAS had great visions, but even they could not have imagined what Europe would look like 50 years later. Peter Freeman, one of the personalities involved, and a future Chair himself, told us how it all began.
"The first steps towards a European Federation of Financial Analysts Societies were taken when it became clear that President de Gaulle would prevent the United Kingdom from joining the European Economic Community. At a committee meeting of the British Society of Investment Analysts in 1961 we agreed that in our sphere at least we should seek to create a European movement, and letters suggesting this were sent to societies or analysts known to us in France, the Netherlands, Germany, Belgium and Switzerland. Encouraging replies came from all but France, a puzzle that was resolved some months later when an invitation was extended for a European analysts meeting to be held in January 1962 in Courchevel (then a new resort in the French Alps). The French analysts' group was encouraged by Pierre Cabon, with Philippe Denis active in the arrangements for the meeting and thereafter.
The creation of a European Federation was agreed in Courchevel and Pierre Cabon and I drafted its Statutes around midnight in the Hotel des Célibataires in time for the plenary session the next day.
Administrative arrangements were made in the period that followed and I was appointed Vice President and Executive Chair of the Federation's committee, whose active members included, notably, Nils Taube (UK), Pierre Cabon and Philippe Denis (France), Michael Hauck (Germany), Jean-Claude Hentsch(Switzerland) and Adolph Van Grovestins (the Netherlands).
Our first act was to announce and prepare for a Congress to be held in Cambridge in July 1963, over whose organising committee I presided. As a nascent European professional organisation this was a serious affair which could be attended only by analysts selected by their national societies to work in one of twelve study groups. (Practical local assistance during the Congress was offered by Cambridge residents, among whom David Damant, whose subsequent role as Chair of the Federation is known.) Judged a success, the Cambridge Congress was followed at about two-yearly intervals by others, hosted by the respective national societies."
2012 was a landmark year for the European Federation of Financial Analyst Societies: EFFAS turned 50. It was a year of gratitude to all who have passionately and enthusiastically volunteered over all these years to promote the mission of EFFAS, and it provided motivation for those currently involved to continue to make EFFAS' voice heard and to work for what EFFAS stands for: Promoting Integrity, Thriving on Diversity, Creating Wealth. Respecting and acknowledging different cultures, languages and national values is a fundamental principle governing EFFAS.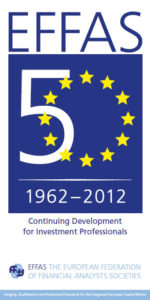 EFFAS CHAIRS
| Chariman | Country | Year start | Year end |
| --- | --- | --- | --- |
| Jacques Koenig | France | 1962 | 1963 |
| Peter Freeman | Great Britain | 1963 | 1964 |
| Duc d'Ursel | Belgium | 1964 | 1966 |
| M. Priess | Germany | 1966 | 1968 |
| J. C. Hentsch | Switzerland | 1968 | 1970 |
| R. Termes Carreró | Spain | 1970 | 1973 |
| Pierre Jars | France | 1973 | 1975 |
| David Damant | UK | 1975 | 1977 |
| André Laviolette | Belgium | 1977 | 1980 |
| E. L. Vervuurt | The Netherlands | 1980 | 1982 |
| Arnold Weissmann | Germany | 1982 | 1983 |
| André Laviolette | Belgium | 1983 | 1990 |
| Jean-Guy de Wael | France | 1990 | 1996 |
| David Damant | Great Britain | 1996 | 2001 |
| Fritz H. Rau | Germany | 2001 | 2008 |
| Giampaolo Trasi | Italy | 2008 | 2012 |
| Jesús López Zaballos | Spain | 2012 | to present |